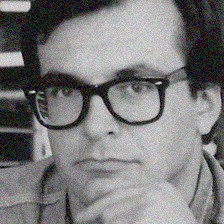 Büro für architektur is a Stuttgart based architectural firm with a branch on Poel Island on the Baltic Sea. The work of the practice has won multiple national awards and has been named by Wallpaper magazine as one of the "Top 25 architect practices around the world". The office's work comprises small to medium sized buildings for private and public clients - for instance a multi-purpose hall in Schorndorf and a fire-station in Auenwald-Unterbrüden. The architects produce sophisticated and individual architectural proposals, for both existing and new buildings, small budgets are managed as appropriate. All stages of design and construction within HOAI are covered, from outline design up to on site supervision.
Antje Krauter
Trained at the University of Stuttgart. Teaching assistant at the Stuttgart Institute of Building Construction. Department for Building Construction at the University of Wuppertal (2001-3). Professor for Gestaltung University of Mainz. Chair of the exhibition committee at the Weißenhof Gallery, Stuttgart.
Trained at University College London Bartlett School of Architecture, Städelschule Frankfurt, FHT Stuttgart.Teaching assistant at the Institute for Building Construction University of Stuttgart. Various teaching positions at Cologne, Stuttgart and Perth. Professor for Architecture at Wismar University, Faculty for Gestaltung. Author of Mobile Architecture, the history and development of modular transportable buildings, pub DVA Stuttgart 1988.